I'm a girl who loves to grill.  For some reason in the world of home cooking, those are things that seldom go together but I don't really understand why.  I won't dissect the gender stereotypes here – it really doesn't matter.  What does matter is that I love to grill.  It is time to spend outside, time to spend with my dog (who thinks I'm out there exclusively for the purpose of kicking her soccer ball), and time to cook something wonderful for dinner.  Once daylight savings time begins in March, thus making it light out later in the evening, I start grilling and don't stop until after daylight savings time ends and it is too dark.  (Yes, I know you can get grill lights but – and this might sound nuts but it's true – I don't like the way to artificial light makes the food look. I'm more than a little bit crazy, yes.)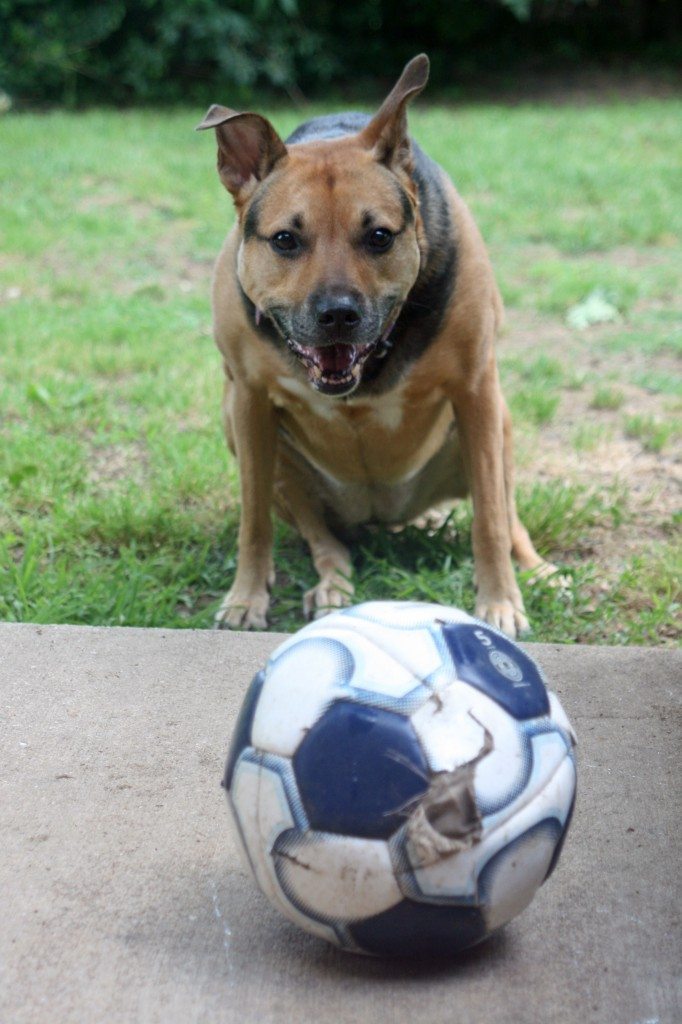 If I can figure out a way to grill it, I will.  Meat, veggies, pizza, dessert, fruit – all on the grill.  This summer I'll share recipes and tips for all of those things and more.
One of my favorite Italian dishes is eggplant parmesan, but it is so unhealthy.  Fried AND smothered in cheese.  Totally delicious and totally not good for you.  At home I make a few variations on healthier eggplant parm that I'm pretty sure any true Italians would not approve of.  So to you true Italians, I'm sorry!  My goal here is to hang onto those delicious flavors and ditch some of the fat… oh, and to grill it. Obviously.
Cooking eggplant can be tricky.  There are many different varieties and unfortunately the American eggplant (the big dark purple guys you see in the grocery store) is the least flavorful and most finicky to cook… but totally manageable.  Here is my method.
Grilled Eggplant Parmesan
1 large eggplant
Your favorite red sauce – jarred or homemade
Mozzarella – shredded or fresh, whatever you prefer
Salt, pepper, dried herbs, garlic
Fresh basil
Slice the ends off the eggplant and then slice the rest into rounds about ½ inch thick.  Sprinkle with a bit of salt and set aside.  The salt draws out some of the moisture in the eggplant.  Some people say it gets rid of the bitterness, but I don't taste any bitterness in eggplant so I'm not sure about that.  I find that it makes the eggplant creamier and less spongy.  Whatever your reason, salting your eggplant definitely makes it better.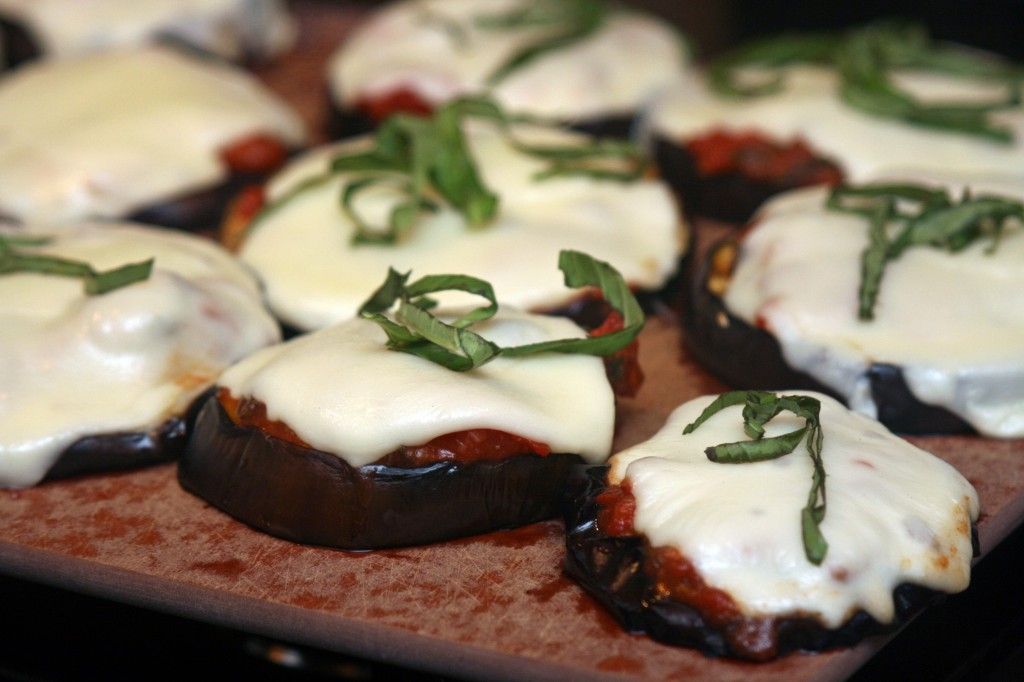 While your eggplant is sitting, you can make a quick sauce if you like.  I like to use a can of Muir Glen fire roasted tomatoes (they use BPA free cans!), garlic, basil, oregano, thyme, salt and pepper plus a splash of balsamic.  Add a little of everything and let it simmer.  Taste.  Need more of something?  Add it.  Let it simmer.  Repeat until it is delicious.
Jarred sauce is just fine if that's what your family likes.
Slice your mozzarella if you need to do that.  If you're using the fresh mozzarella that is sitting in water, be sure to let your slices drain in a colander before you use them.  Otherwise you'll have watery eggplant parm.
Slice your basil.  Stack the leaves and roll.  Then slice into ribbons – that's called chiffonade if you want to be fancy about it.
Heat your grill to medium heat.  Not too hot!  You want your eggplant to cook through, not burn.  If you're unsure of the heat, lean towards too low than too high.
When everything is ready, rinse the salt off the eggplant and pat dry.  Just before you're about to put them on the grill, brush one side with olive oil and sprinkle with a little dried oregano and/or thyme just for that extra flavor kick.
To grill:
Put the eggplant oiled side down.  Let it cook for about 5-7 minutes before you check on it.  Peak at a few slices and see that they are getting brown but not burning.  Just before they are ready to flip, brush with olive oil.  Flip.
Once you have flipped, put a little sauce and cheese on each slice of eggplant.  While they grill, the cheese will need time to melt.    By the time the cheese is bubbly and gooey, they will be perfectly cooked.
Remove from the grill and sprinkle with those ribbons of basil to serve.
This dish has that sweetness from the tomato, rich gooiness of the cheese, and the smokiness from the grilled eggplant. Serve over pasta or by itself.  Chop it up as finger food for your little one!  It is a dish the whole family will enjoy.
[easyrecipe n="2"]