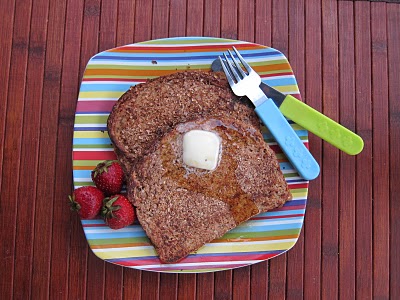 I have two boys under four years old and to say their eating habits are erratic would be an understatement. One day they love something and the next won't even look at it. It can be frustrating but I try to stay the course and constantly offer them a variety of nutritious foods.
No matter how picky or disjointed your kids eating habits may be, there are usually a few things they will always happily eat and for my kids that's pancakes, french toast or waffles. Lately we've been eating a lot of french toast which is actually pretty nutritious and well balanced because it contains carbs and protein. Skip the syrup or go easy on it and serve it alongside some fruit and you are in breakfast business. I learned early on that it's also a perfect "finger" food for young kids and they just go wild when you cut the bread into sticks.
Always searching for ways to up the nutritional value of my families food, I decided to start sprinkling the french toast with wheat germ. This not only increases the nutrient content of one f our favorite breakfasts, it also gives it a nice little nutty crunch.
What the heck is wheat germ anyway?
Wheat Germ contains many essential nutrients and is a good source of B vitamins, such as folate, niacin, thiamin and vitamin B6, among other things. Wheat Germ is also a good source of omega-3 fatty acids.
Some of my favorite uses for Wheat Germ:
Sprinkled into hot or cold breakfast cereal.
Baked into muffins or breads
Stirred into waffle or pancake batter
Stirred into yogurt or a smoothie
Added to your favorite granola bar recipe
Crispy Wheat Germ French Toast
Serves 2 adults or 4 little ones
Ingredients:
2 eggs, beaten
¼ cup skim milk
1 teaspoon cinnamon
½ teaspoon vanilla extract
pinch of salt
4 slices whole wheat bread
¼ cup wheat germ
2 tablespoons butter
Instructions:
1.In a mixing bowl, whisk together eggs, milk, vanilla, salt and. Dip each slice of bread into the egg mixture and allow each to soak for 10 seconds on each side. Place dipped bread onto a platter or cutting board. Sprinkle each slice with wheat germ on both sides.
2. Heat butter in a large skillet over medium-low heat. Place 2 slices of bread into the pan at a time and cook until golden brown, about 2 minutes per side. Serve immediately topped with fresh berries, extra butter and real maple syrup or keep toast warm in the oven using the TIP, below.
*Note: After opening, store Wheat Germ in an airtight container in the refrigerator. It can also be frozen for an even longer shelf life.
TIPS:
-Keep French toast warm in a 200 degree oven by placing it on a rack set into a cookie sheet.
-Save leftovers (if there are any) for sandwiches later. French toast bread is great for a grilled ham and cheese.
Time Saver Tips:
-Make-ahead and freeze:
I have to be out the door by 7:30AM to make it to work every day which doesn't leave me a whole lot of lingering time. Still, I know that having my sons favorite breakfast foods on-hand is the best way to ensure he eats a good breakfast no matter how pressed for time I am. Freezing is the key to my success. Every Sunday, I make a batch double batch of either Pancakes or French Toast and freeze them, using the method below.
1. Make a double batch of your favorite pancakes, french toast or waffles.
2. Allow them to cool on a wire rack.
3. Wrap each pancake individually in wax paper, parchment paper or heavy duty aluminum foil and place inside a freezer bag.
To Re-heat:
Unwrap and place in microwave for 20 seconds. You could also reheat in the oven but that's just crazy talk to a mama whose in a rush to get out the door.
[easyrecipe n="0"]