People always tell me that time flies quickly with kids and to savor every moment – strangers say that to me.  I nod and say things like "Don't I know it!" and give a fake laugh and walk away annoyed that a person would think that I don't savor moments with my daughter.  How dare they?!
Here I am on Sweet D's first birthday – one year after she came into my world and made me who I'm supposed to be.  I have no idea where the year went and I'm certain that I didn't focus enough on savoring every little moment.  Is that even possible?  I took thousands of photos (literally), videos, wrote blog posts that serve as journal entries, etc but what did I miss?  There are definitely things.
In my first year as a mom, I've learned a few important lessons:
You don't need as much sleep as you think you do.
Patience is finite.  Store it up and save it for your kids and husband; they need and deserve it the most.  Get all crazy and impatient on strangers instead.  They don't know you.
You can never vacuum enough especially if you have a dog.  Just vacuum enough so that your crawler doesn't look like she has hair growing on her palms.
Perfection does exist and it doesn't always eat what you want it to eat, sleep when you want it to sleep, or smile when you want it to smile.  But that doesn't make it any less perfect.
Perfection in parenting does not exist, but that doesn't make you any less awesome at it.  Sweet D reminds me of that daily.
So what will Sweet D be smashing in her adorable little face to mark the day? We'll be with our families in the next week so we'll be celebrating Sweet D's birthday three separate times.  Call me Mean Mama, but I just don't feel that a one year old needs three cupcakes in a week.  Sorry, kiddo.  For our home celebration on her actual Big Day, I'm making her a delicious treat without any added sugar.  She's getting my favorite food – pie.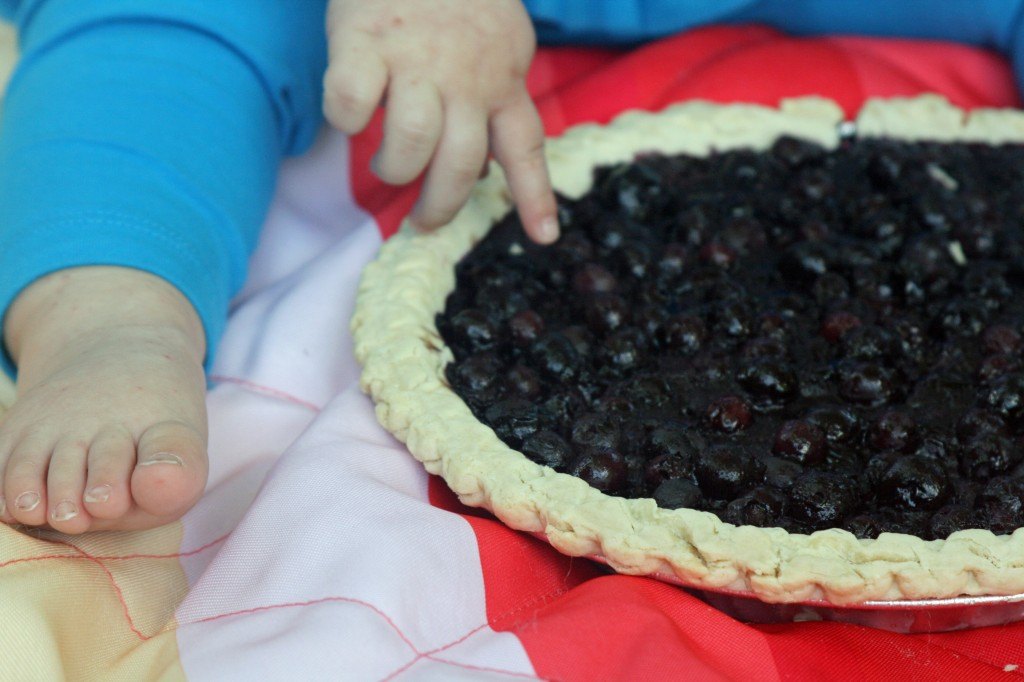 No-Sugar-Added Blueberry Pie
I used a pre-made pie crust — feel free to make one if you wish!
4 cups of blueberries
1/4 cup of pureed Turkish apricots
1/2 banana
Preheat your oven to 350.
Wash your blueberries and make sure all of the stems are removed.  Put 1 cup of blueberries into a sauce pan over medium-low heat.  Add a splash of water — just enough to keep them from burning.
For the pureed apricots — I get unsulphured Turkish apricots for Sweet D to use in lots of things.  They taste just like honey!  (Infants shouldn't have honey because of the risk of Botulism.)  Put the apricots into a sauce pan and just cover with water.  Cook until they are very soft.  Puree with the cooking liquid.  I then put them in ice cube trays and freeze.  For this I used 4 cubes.
Cut the banana into chunks and add to the pot of blueberries.  Add the cubes of apricot.  Let it all cook down until it coats your spoon and the side of the pan — it should almost be like a syrup.  Without sugar, it won't quite make it to syrup consistency but it will get close.
Mix the cooked blueberries and the uncooked blueberries together.  Pour into your pie crust (no need to pre-bake, BTW).  Put the pie on a cookie sheet to prevent a mess in your oven.  Bake for 30 minutes or until the crust is golden brown.
Allow to cool completely.
Despite having no sugar and no thickening agent, this pie set up pretty nicely!  I'm not sure I could've cut slices, but it was definitely not soupy.  A perfect texture for a smash pie!  If you wanted to make this as a dessert for your family, make the filling the same way and pour into a ceramic casserole dish.  Cover with either pie crust (cut slits in the top to release the steam) or a crumble topping.  Scoop with a spoon like cobbler.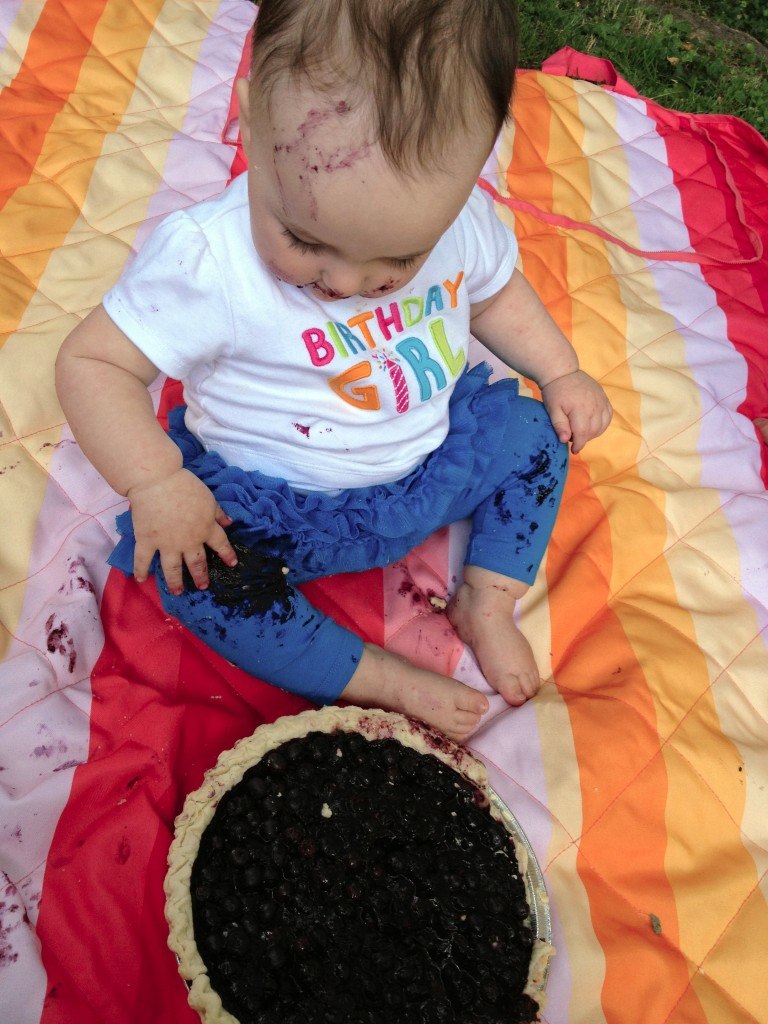 Sweet D is getting over a bout of Hand, Foot and Mouth Disease so she's still getting back to her usual eating habits.  So, needless to say, she had a great time playing with the pie!  She didn't eat it, though… Mama and Dada did.  It was plenty sweet and beyond yummy.
[easyrecipe n="0"]