Warmer weather is upon us which means lots and lots of potlucks, cook-outs and BBQ's. I don't know about you but, no outdoor meal is complete without a crisp and refreshing salad. I mean, you have to have something healthy to go along with all of that grilled meat, right?
Lately I'm not such a lettuce girl. I think I'm just burnt out on salads made of leafy greens. I am however, a huge fan of salads made with chopped veggies. I find it really exciting to try different combinations of crisp, raw veggies, tossed in a refreshing vinaigrette. Chopped veggie salads are a great way to get a ton of vegetables into your diet. They are also an easy and economical way to serve salad to a crowd.  Simply pick a few of your favorite vegetables, chop them up really small and toss them with some fresh herbs and your favorite vinaigrette. You can also sprinkle over your favorite nuts and cheese for extra flavor and crunch. The best part is, the veggies can be chopped the night before so all you have to do come serving time is toss in some dressing and you are good to go.
One of my newest veggie salad obsessions is one made with finely chopped red cabbage. It's sturdy leaf and robust flavor allows it to hold up nicely in the vinaigrette and it's so much more exciting than regular lettuce.  Not only is the color gorgeous, it's full of fiber, vitamin K, vitamin C and folate. Toss up a chopped veggie salad for your next summer get together and let me know what combinations you come up with.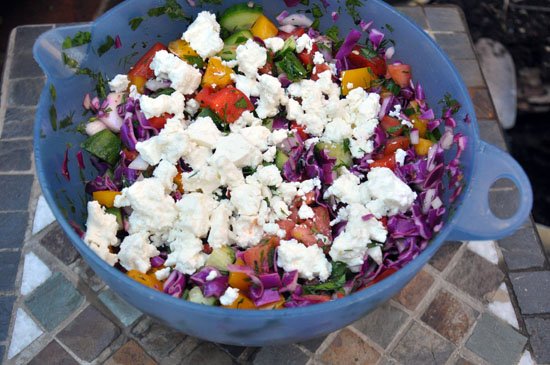 Red Cabbage and Feta Chopped Veggie Salad
Serves 6
Ingredients:
1/4 cup red wine vinegar
Juice of 1 lemon
3/4 teaspoon salt
1/2 cup olive oil
2 cups red cabbage, finely chopped
2 bell peppers, finely chopped- (I used red and yellow)
2 large seedless cucumbers, diced small
1 large tomato, de-seeded and diced small
1 small red onion, finely chopped
1/4 cup flat leaf parsley, finely chopped
1/4 cup dill, finely chopped
6 ounces feta cheese, crumbled
Instructions:
1. In a large bowl whisk together vinegar, salt and lemon juice. Continue to whisk while streaming in olive oil.
2. Add all of the chopped veggies to your dressing bowl and toss to coat. Taste for seasoning and adjust if necessary. Sprinkle feta cheese over top. Serve.
[easyrecipe n="2"]