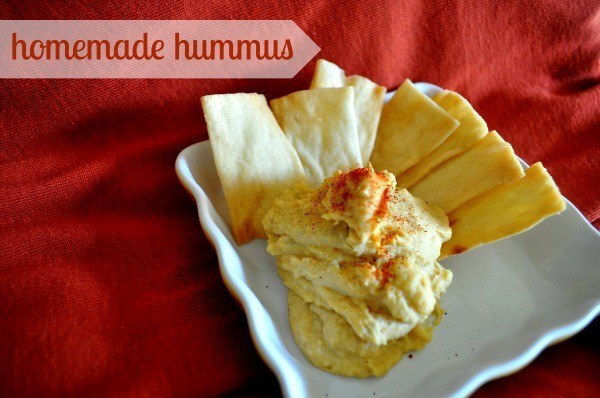 My sweet 2 year old is on the brink of obsession when it comes to dips. In her mind, a meal is not complete without a coordinating dip. Meatballs must have marinara. Fish sticks must have ketchup. Apples must have peanut butter. In a valiant effort to make veggies more appealing I've been on a search for an enticing dip that coordinates.
Enter hummus.
I first discovered hummus at Costco – the red pepper variety. I snagged it on a whim and we had it smeared on bruschetta one night for a light dinner. Then it dawned on me. This protein-packed dip is the perfect addition to my veggie dilemma! We started going through quite a bit of hummus once my toddler fell in love with its' creamy texture and yummy taste and although the Costco variation is delicious, it soon became cost prohibitive. Hence, my homemade hummus.
This recipe is toddler-approved (my little one has taken to eating hummus by the spoonful!) and is super simple to whip up when you're in a hurry. I hope your family will enjoy it as much as mine has!
HOMEMADE HUMMUS
Ingredients
1 – 15 ounce can of chickpeas
2 tablespoons sesame tahini
2 tablespoons lemon juice
1 tablespoon garlic
1/2 teaspoon cumin
1/2 cup olive oil
1/2 teaspoon paprika
Directions
Place chickpeas, tahini, lemon juice, garlic, and cumin into a blender or food processor and briefly pulse.
Slowly drizzle in olive oil.
Use a spatula to remove hummus into a serving bowl and sprinkle with paprika.
Serve with veggies, pita chips, crackers, or bread.
Once you're ready to move beyond basic hummus feel free to blend in a 1/2 cup of pesto for pesto hummus or a 1/2 cup of jarred red peppers for red pepper hummus.
[easyrecipe n="0"]