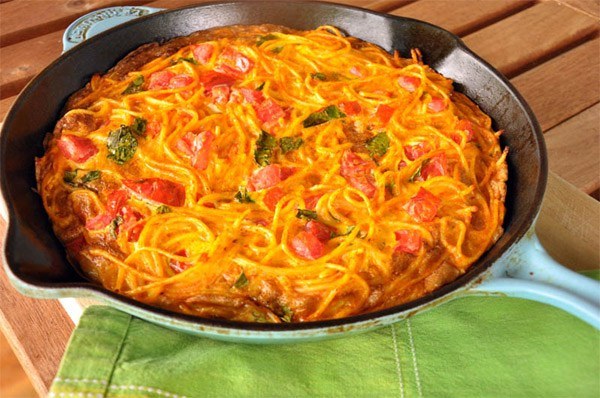 I hate to waste food and I know many people feel the same way. Inevitably we make too much of something, we put it into an airtight container to eat later and then it sits in our fridge until it grows legs and walks away or we are forced to clean out the fridge because of a suspicious smell. C'mon. You know you've been there. Leftovers are very often looked over and forgotten about.
My husband isn't big on leftovers. Some people love 'em, but he's just never been into reheating old meals. Needless to say it's been quite  tricky for me to use up surplus food and navigate around his, ahem, annoying preference. Most of the time I purposely make just enough food so we don't end up with leftovers but since I'm Italian and Italians never really know how to cook small amounts, I usually end up with extra.  Since I refuse to throw out food, I work really hard to come up with new and exciting ways to make leftovers taste and look like a whole new meal. One of my favorite ways to use up leftover spaghetti is in a frittata. It's a one pan meal that's  so delicious, we all actually look forward to spaghetti night because of the possibility of eating this the next day.
This is the kind of recipe you can change and adapt to work with whatever you have on hand. You can use almost any cut of leftover cold pasta with marinara sauce and add any cheese, meats, veggies or herbs that your family fancies. The possibilities are literally endless. And just like that leftovers are sexy again. Enjoy!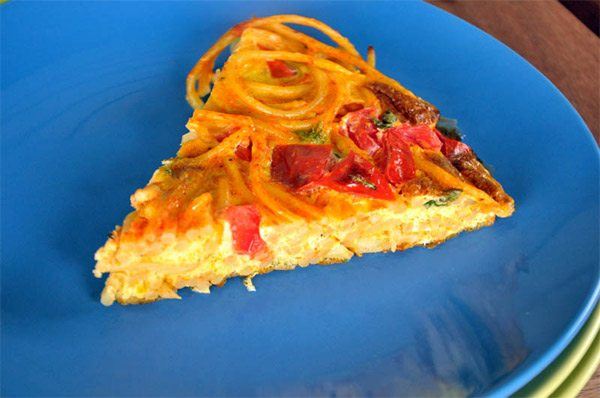 Spaghetti Frittata
Serves 4-6
Ingredients:
2 tablespoons olive oil
1 clove garlic, sliced
2 handfuls of leftover spaghetti in marinara sauce (about 1/4 lb total. Note: Pasta should not be soaking in the sauce but rather tossed in it so it's on the dry side)
6 large eggs, beaten
1 teaspoon salt
1/2 teaspoon black pepper
1/2 cup shredded mozzarella
1 large tomato, chopped
1/4 cup basil, torn
Instructions:
1. Set oven to broiler setting and place oven rack in the middle.
2. Heat olive oil in a large oven-safe skillet over medium heat. Add in garlic and cook for only 15 seconds. Gently place pasta into the pan in one even layer. Pour beaten eggs over pasta. Allow the eggs to cook for 30 seconds, using a rubber spatula to move the uncooked eggs towards the outside of the pan as they begin to set. Season with salt and pepper. Top with cheese, tomato and basil, then place entire pan into the oven under the broiler. Cook until the top of the frittata is set, about 6 minutes (keep an eye on it). Using oven-mits, remove skillet from oven and allow to cool slightly before cutting into wedges and serving. Enjoy!
[easyrecipe n="2"]