This chili recipe is super simple and can easily be modified for meat eaters, vegetarians, and vegans. That way, everyone is happy, including the cook. I made up this recipe because the fact that I'm a vegetarian and my husband isn't making it difficult to cook sometimes. Lots of nights I have to make two totally seperate meals and that takes up a lot of time. This is something we both enjoy and can both eat! If you're a vegetarian, omit the beef. If you're a vegan, omit the beef and cheese.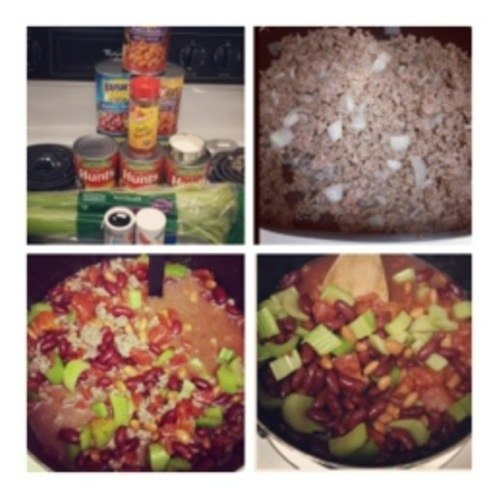 Ingredients-
3 cans Beans of your choice.  I use pinto and kidney beans and black beans work great, too.
3 cans of diced tomatoes
1 package of Celery
1 onion
1 pound of Ground beef (optional)
Salt and pepper to taste
Chili powder to taste
1 tablespoon of sugar
Cheese (optional)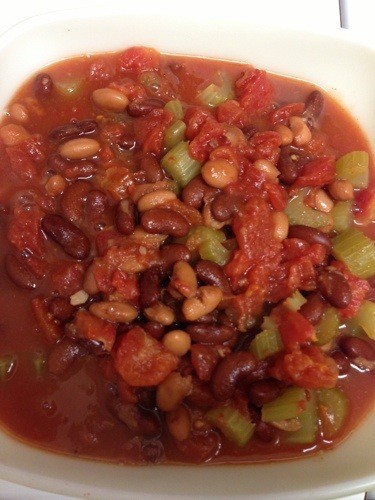 Directions-
1) Brown your beef and halfway through add the chopped onion. Since I make this for my husband (a meat eater) and myself (a vegetarian) I get out two seperate large pots. I put the meat in only one of them. After that, the process is the same.
2) Add the beans, tomatoes, chopped celery, salt and pepper to taste, a dash of sugar in both, and the chili powder.
3) After everything is dumped in, give them a good stir and let them simmer on low heat until everything is nice, cooked, and hot.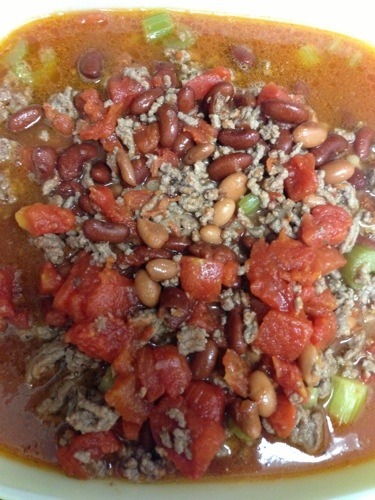 This makes enough chili for my husband and I both to have it everyday for lunch or dinner for a week. Just store all of your leftovers in an air tight container or casserole dish in the fridge.
You can sprinkle cheese and sour cream on top before you eat it, too.
Enjoy!
 
[easyrecipe n="0"]